BoreSaver is safe, easy to use and biodegradable.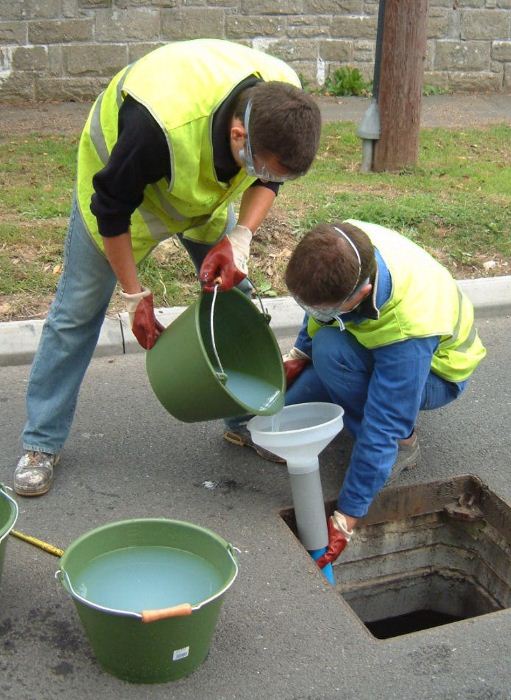 Simply follow the BoreSaver four step process for clean, fast-flowing water:
1. Identify which BoreSaver cleaner you need with our range usage chart

Click here to download our range usage chart.
2. Work out the amount you need with our dosage table

Click here to download dosage chart.
3. Pour BoreSaver straight into your well or borehole, recycle the water, surge and leave in for 24 hours.
4. Flush out your well or borehole by using any of the standard methods. Surging and brushing, air-lifting or pump-in recycling will safely pump the deposits and contamination away.
Aftercare: Use BoreSaver as part of a regular maintenance programme to keep your well or borehole trouble free.
Looking for further advice, please contact us.
Technical support & evaluation available.
For more information on how much BoreSaver to use please refer to our dosage chart or contact us direct at: info@wellrehabilitationsolutions.com
Who uses BoreSaver?
The BoreSaver treatments are used in private and public water supplies and in the mining, landfill, agricultural and horticultural sectors. They are also widely used by commercial organisations that need a consistent, trouble-free supply of water for their processes.
Where is BoreSaver Used?
Typical applications for the BoreSaver range include geothermal, pipelines, water supply wells (domestic and commercial), quarrying, mining, leachate pumping, irrigation and remediation. In fact, Boresaver treatments are used wherever there are residues that affect the output and flow of the water supply.
Technical Advice
Our technical department is on hand to give you comprehensive advice on the treatment and maintenance of your water supply and how to use BoreSaver cleaners. We can help you identify the problem, advise which cleaner to use, explain how to use the BoreSaver treatments and recommend an ongoing maintenance programme.